Piastol
Piastol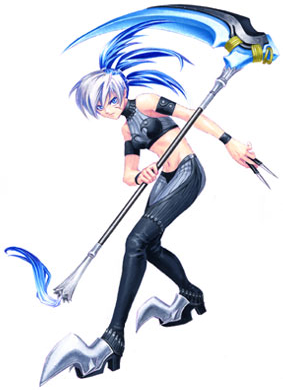 Piastol (ピアストル Piaster), also known as the Angel of Death. With a gigantic scythe, she is feared by pirates as a bounty hunter who "finishes them off." Very quiet and cold-hearted, she displays reticence in her cruel elimination of pirates.
A chance encounter with Vyse has caused her to make him her next target, and several times she may do battle with him.
Piastol's name in Japan, Piaster, refers to a number of units of currency.
Angel of Death is derived from a translation of Shinigami (死神), which means Death God, a being similar to the Grim Reaper, hence her Scythe.
In Japanese materials, her weapon is referred to as a Kama (

鎌

), similar to a small scythe or sickle but exclusively used as a weapon.
Official Eternal Arcadia Legends Site
[
edit
|
edit source
]
通称「死神のピアストル」。
その巨大なカマを駆使し、賞金首の空賊たちを「始末」する賞金かせぎとして空賊たちに恐れられている。無口で冷酷な空賊キラー。
ふとしたきっかけからヴァイスをつけ狙うようになり、物語中何度もヴァイスの前に登場し戦いを挑んでくる。